One of FWC's most appealing buildings for overnight stays is the Geodesic Dome which was built in 2013-14 thanks to the generosity several special Friends and an energetic band of volunteers which helped erect it and add the front porch. The basic amenities at the dome are:a double bed futon; space for two sleeping bags on the floor; a table and two chairs; and a fire pit outside for cooking.
Here are some pictures of the dome exterior and interior to give you a flavor of what the building looks like and its layout: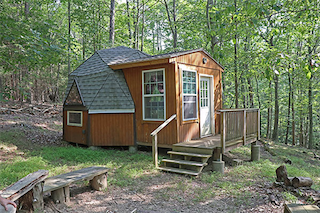 Front of the dome looking from the fire pit area.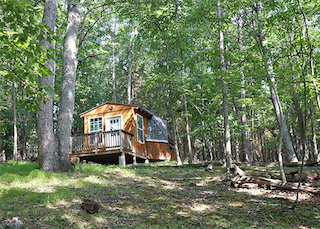 Its secluded location beneath the forest canopy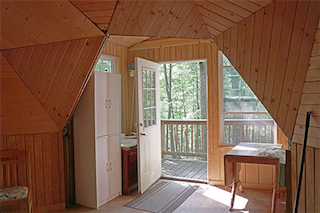 Image of the dome's
interior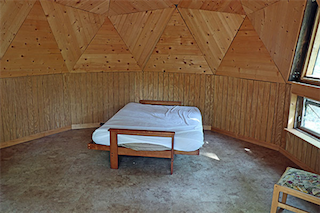 Image of the dome's
interior
To see a 360 degree rotatable view of the Dome interior, click here.
While you can see the charm of the building and its wooded location, it is important to point out its lack of certain amenities:
There is no running water at the dome. The closest source of water is at the Niles Cabin which is about 150 yards away which had both an outdoor hose and an indoor bathroom.

There is no bathroom in the dome nor outhouse nearby

. The closest approved toilet facilities are in the Niles Cabin 150 yards from the dome and may be used with permission of the General Manager, Sheila Bach. We regret the inconvenience but until we make arrangements to build a composting outhouse, this is the best we can offer in this regard.

For helpful guidance and tips on environmentally friendly ways of dealing with solid please refer to these helpful sites:
There is no WIFI and cell phone reception may be an issue depending on your carrier

.

And lastly, there is no electricity at the dome and thus no A/C or heat.

If you need light, you will need to bring either a Coleman Lantern or battery powered light. Cell phones and electronic devices may be recharged at the Niles Cabin if necessary. We suggest you bring spare batteries for all battery powered devices (GPS devices, flashlights, etc.).
On the plus side, you will be 'off the Internet' in a very private and quiet spot, surrounded by woods – the perfect place to get away from normal distractions and commune with Nature. There is a fire pit close by so you can have a camp fire (click here for proper fire precautions) and enjoy all the special fun that a camp fire can provide. There are normally enough dead branches in the woods nearby to be able to build a modest fire, but we encourage you to bring 3-6 well seasoned fire logs in your car when you visit to make sure you have the materials for an adequate fire that will last long enough to provide coals for S'mores and storytelling.
Suffice it to say that the Geodesic Dome is a remarkable little building that affords a uniquely private and intimate forest experience, but it is not for everyone given its lack of amenities. If you or members of your party require all the basic comforts of home, you might want to reconsider using the dome and opt for camping at the Tree House which does have a nearby outhouse and fire ring area but like the dome, lacks water and power on site.
The current (June 2020) rate
The current (June 2020) rate for renting the Geodesic Dome is $40 per night for up to 4 people.
If you are interested in renting the dome for a night, a weekend or a longer period, please contact the FWC General Manager, Kimberly Benson at 304-261-7956 or Center@FriendsWilderness.org.